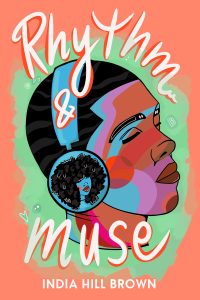 I'm so excited to share with you all my debut YA novel, RHYTHM & MUSE, which releases on May 30, 2023! I have been working on this story since 2019 – It was my NaNoWriMo story back then, and I can be seen working on it in a little Moleskine journal here. I have done so much for this story – including sitting in studio sessions for research, endlessly researching musical terms and asking my in-house musician (my husband) for clarification. I've been working on it so long, I've had to update the dedication a couple to times to add my two baby boys that I gave birth to while writing it!!
It's about a teenage boy named Darren – shy, perfectionist, a little too hard on himself. He lives life in his head. He feels safe there and can always control the outcome. He constantly has Delia Daydreams – daydreams about the girl he's been crushing on for a while, the popular, podcast host of Dillie D in the Place to Be, Delia Dawson. His blunt but well-meaning best friend, Justin, tells him this has to be the year he asks her out. But Darren is skeptical. If she says no, then that's just … it.
Dillie is running a contest for someone to sing the theme show for her podcast, and somehow she anonymously receives a recording of Darren singing, that becomes hugely popular. Darren has to decide: will he take ownership of it and his feelings for her, or continue to live life in his head? This story has a Cinderella-esque spin on it, light-hearted laughs, and a call to get out of your comfort zone!
I was inspired by my love for music. I love most genres of music – I love song structure and the storytelling aspect. This story was a way for me to express that!
When I first started really reading YA romance, I realized at the time I started dreaming up this story that young, Black boy protagonists was missing from the genre. I wanted to spotlight a Black boy navigating love and life with his caring friends and family.
Although this is a YA Romance, I still feel like you may enjoy it if you are a fan of THE FORGOTTEN GIRL and THE GIRL IN THE LAKE! The content is not too mature for younger readers.
Although it releases on May 30th, you can preorder now, and that's actually super helpful for me as an author! Pre-Order here.
I hope you enjoy and I cannot wait fo you to meet Darren, Dillie, Justin, and everyone else!